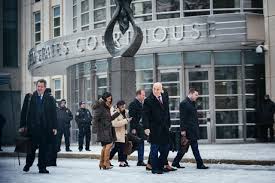 孟晚舟被美再添新罪名
孟晚舟被美國紐約聯邦法院再增添詐財及商業間諜新罪名
Huawei, Meng Wanzhou hit with new racketeering, corporate espionage charges in U.S.
BY AMANDA CONNOLLY GLOBAL NEWS
Posted February 13, 2020 1:46 pm
Updated February 13, 2020 1:53 pm
https://globalnews.ca/news/6547303/doj-adds-huawei-charges/?utm_source=notification/
The U.S. Department of Justice is adding new charges to its criminal case against Chinese technology giant Huawei.
In a statement issued on Thursday afternoon, the Justice Department said it is adding a racketeering charge to the series of counts filed against Huawei last year.
It is also now facing further allegations of plotting to steal trade secrets.
The new details came in the form of a superseding indictment filed in a New York federal court.
Investigators allege that Huawei, four subsidiaries and Meng were involved in a "decades-long effort" in both the U.S. and China to "misappropriate intellectual property, including from six U.S. technology companies, in an effort to grow and operate Huawei's business."
"The misappropriated intellectual property included trade secret information and copyrighted works, such as source code and user manuals for internet routers, antenna technology and robot testing technology," a press release issued on the expanded indictment reads.
"Huawei, Huawei USA and [alleged subsidiary] Futurewei agreed to reinvest the proceeds of this alleged racketeering activity in Huawei's worldwide business, including in the United States."
The charges come as tensions between Canada and China remain at unprecedented levels.
Canada arrested Huawei CFO Meng Wanzhou in December 2018 on a U.S. extradition request.
Department of Justice officials announced the following month they were charging Meng and her company with 23 counts ranging from bank fraud to money laundering and obstruction of justice.
逍遙閣最新貼文:
436 最常見的眩暈症~~耳石移位 http://blog.udn.com/jfeng13x/131294644
437 「一秀勝千言」~~中華儒將劉放吾將軍 http://blog.udn.com/jfeng13x/131361636
438 對神需要信心在先感覺與了解在後(謝國建) http://blog.udn.com/jfeng13x/131448183
439 光復高雄?旗山巡檢 http://blog.udn.com/jfeng13x/131488007
440 空與魔~~消減煩惱的方法很簡單(馮紀游) http://blog.udn.com/jfeng13x/131558981
441 最後的食譜:麒麟之舌(馮紀游) http://blog.udn.com/jfeng13x/131608507
442 我已住進溫哥華的安養中心(許業武) http://blog.udn.com/jfeng13x/131665900
---