Galaxia Level 12
by Galaxia Staff
All rights reserved.
Date: Tuesday, September 12th, 2017
*Peter Pan by J.M. Barrie: Page 14-15
1.guard->guarded: to protect to take care
2. gown
  Town
3.rush->rushed
4.thunder->thundered
@ On top of everything, Michal would not take his medicine.
   Medicine: (noun) A substance or preparation used in treating disease.
5.how does Mrs. Darling feel about his tie?
 Mrs. Darling feels that the tie does not tie properly.
*What Your Third Grader Needs To Know.
Ⅴ.Mathematics: Page 212
 Showing Multiplication
 4 rows and 3 columns=4*3=12
Ⅵ.Science: Page 293
 Classifying the Vertebrates
 The five classes of vertebrates are fish, amphibians, reptiles, birds, and mammals.
*Grammar
 1. 8 subjects:
        I my me mine myself
        You your you yours yourself
        He his him his himself
        She her her hers herself
        It its it its itself
        We our us ours ourselves
        You your you your yourselves
        They their them theirs themselves
 2. Auxiliary Verbs
  Present Past Future
Homework: Line to the group, please!
1.          Peter Pan: Page 14-15(Day1)
2.          3rd: Page 212(Day 2)
3.          3rd: Page 293(Day 2)
4.          Grammar (Day 3)
5.          The Note Book Review (Day 3)
6.          Tuition Payment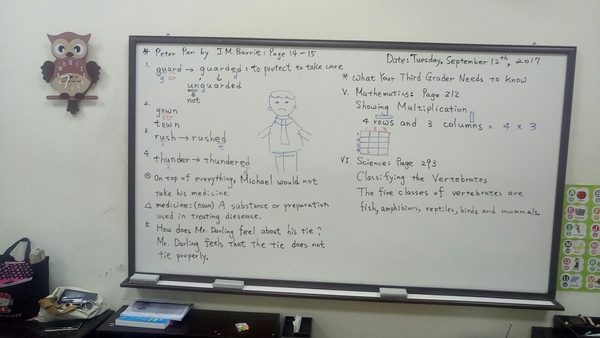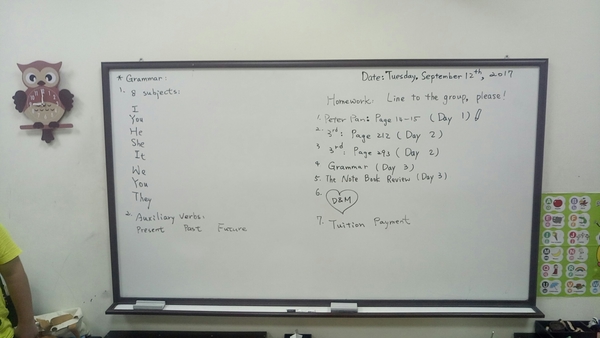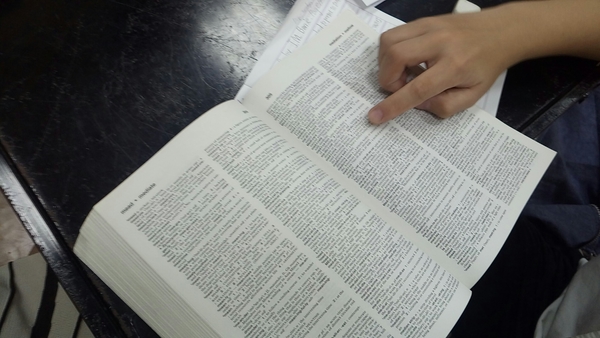 ---


本文於 修改第 5 次